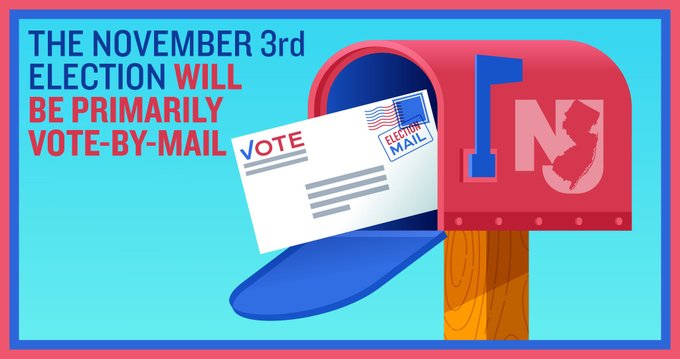 On August 14th Governor Phil Murphy announced that New Jersey will conduct the general election as a nearly all-mail election following on, and improving upon, the model used in the July primary.
NEW: The November 3rd Election will be primarily vote-by-mail.

All active registered New Jersey voters will automatically receive a prepaid return-postage vote-by-mail ballot.

No one should have to choose between their right to vote and their health. pic.twitter.com/P7KuzAx8G8

— Governor Phil Murphy (@GovMurphy) August 14, 2020
Here is what to expect:

ALL registered voters will automatically receive an official Vote By Mail (VBM) Ballot for the general election. No prior registration is required. Ballots are schedule to be mailed on September 19th.
Warren County is anticipating receiving five (5) additional secure drop boxes for depositing VBM ballots, which when installed, will increase installations to 10. The locations of the new installations are currently TBD.
VBM ballots returned by USPS must be post marked on November 3rd to count, and the county Board of Elections will accept postmarked ballots up to one week after the general election.

Voters will have the option to vote in person, if they choose to do so. That said, able voters who choose to vote in person will be given a provisional ballot to complete.
Warren County will increase the number of physical polling locations, from the levels that existed in this year's primary, with priorities being placed in the county's larger municipalities (e.g. Phillipsburg and Hackettstown)
VBM voters may submit their completed VBM ballots at physical polling locations.

To guard against "double counting", the county Board of Elections will screen all ballots received (provisional, vote by mail and machine voting) for duplicate ballots -- more than one ballot submitted by a single voter. In this case, the VBM ballot will always take precedence.
And now here are some suggestions and observations:
EXPECT long lines at the physical polling locations. Remember the 2016 general election? Consider Voting by Mail.




Huge turnout creates long lines and hour-long voting delays in #JerseyCity https://t.co/rLkgDTiS6J #ElectionDay pic.twitter.com/KqFFhAkt1w

— njdotcom (@njdotcom) November 8, 2016

IF you Vote By Mail, DO SO AS EARLY AS YOU CAN.
IF you want to avoid the long polling lines and/or concerned about COVID-19, make use of the secure drop boxes to drop off the VBM ballot, if possible. The closest one to Washington Borough is located at the Washington Township Police Station on Route 31.
Here is the complete list of secure ballot drop box locations in Warren County:
| | |
| --- | --- |
| Location | Address |
| Belvidere Municipal Building | 691 Water Street, Belvidere, NJ 07823 |
| Blairstown Municipal Building | 106 Route 94, Blairstown, NJ 07825 |
| Hackettstown Municipal Building | 215 Stiger Street, Hackettstown, NJ 07840 |
| Lopatcong Municipal Building | 232 South Third St., Morris Park, Lopatcong, NJ 08865 |
| Washington Township Municipal Building | 211 Route 31 North, Washington, NJ 07882 |
Share to Social Media!