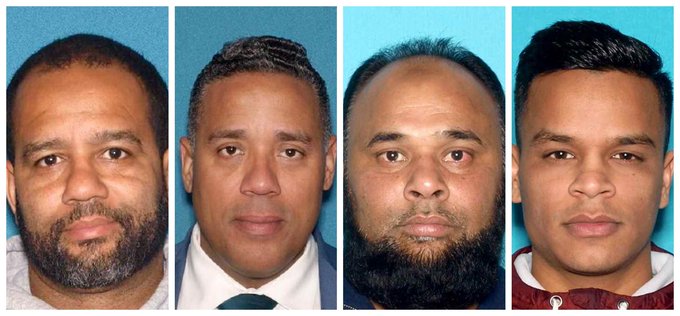 Voting fraud charges filed against Paterson councilman and councilman-elect https://t.co/l4yJXx0yqx pic.twitter.com/3n9uAeoVqs

— NJ.com Politics (@NJ_Politics) June 26, 2020
You may have seen in the news that charges have been filed against sitting Councilperson, among others, in Paterson NJ late last week. The allegation is the defendents participated an organized voter fraud scheme ring. Predictably, the New Jersey Republican Party was quick to say "We told you so!"
You can call us ridiculous @GovMurphy for wanting election integrity w/ federal monitors, but you're weak for ignoring voter fraud & promoting all-VBM elections now. You can't kill an economy & democracy too. We will stop you. #NJGOP #SueYou #LeadRight https://t.co/1fUwjTo4R1

— Douglas Steinhardt (@DSteinhardtEsq) June 26, 2020
What is being forgotten is in 2018, a US Congressional election was invalidated, due to an organized voter fraud scheme by the local Republicans in North Carolina.
Oh and btw #WilliamBarr ..In 2018 the REPUBLICAN PARTY did commit voter fraud in NC-09 by taking absentee ballots from ppl and either collecting or tampering w them to aid the Republican.

Analysis: complete ur ballot, seal it and mail it YOURSELF. https://t.co/2zaapl6b9i

— Sue Bongiovi (@SueBongiovi) June 26, 2020
and overall, Vote By Mail statistically, has low to no incidents of voter fraud despite these claims to the contrary based on the track records of states (e.g. Washington State) that have been running their elections this way, for years.
Tampering with ballots is widely seen to be nearly impossible, because they're printed on very specific stock and often have tracking systems like barcodes. In states that have long embraced mail voting, there's been no evidence of widespread fraud. https://t.co/cedKk0fzbS

— The New York Times (@nytimes) June 22, 2020
You may ask yourself, what can I do to ensure fair elections. You can take three specific actions:

If you have received a VBM ballot in the mail, DO return it to the County Board of Elections (BOE) EITHER by way of the USPS (dropping it in the mail), or dropping it off in one of the secure drop box locations in the county (the closest one to the Borough is the Washington Township Police Department on Route 31 by July 7th (Primary Election Day in New Jersey).

DO NOT give your VBM to anyone you do not recognize and trust, if they ask to "help" you as your bearer -- essentially providing transport services for you in returning your ballot to the BOE. BE SUSPICIOUS! This action is at root of the Paterson case.
If you do not want to be bothered by VBM, you can go to the poll location, stand in line and fill out a provisional ballot on July 7th.
If executed well, Vote By Mail can be a convenient way to participate in our democratic elections, maintain social distancing, and help keep coronavirus in check.

Share to Social Media!